Book Your Tour Packages Now!
Fes desert tours 4 Days - morocco desert tour from Fes, Fes private luxury desert tour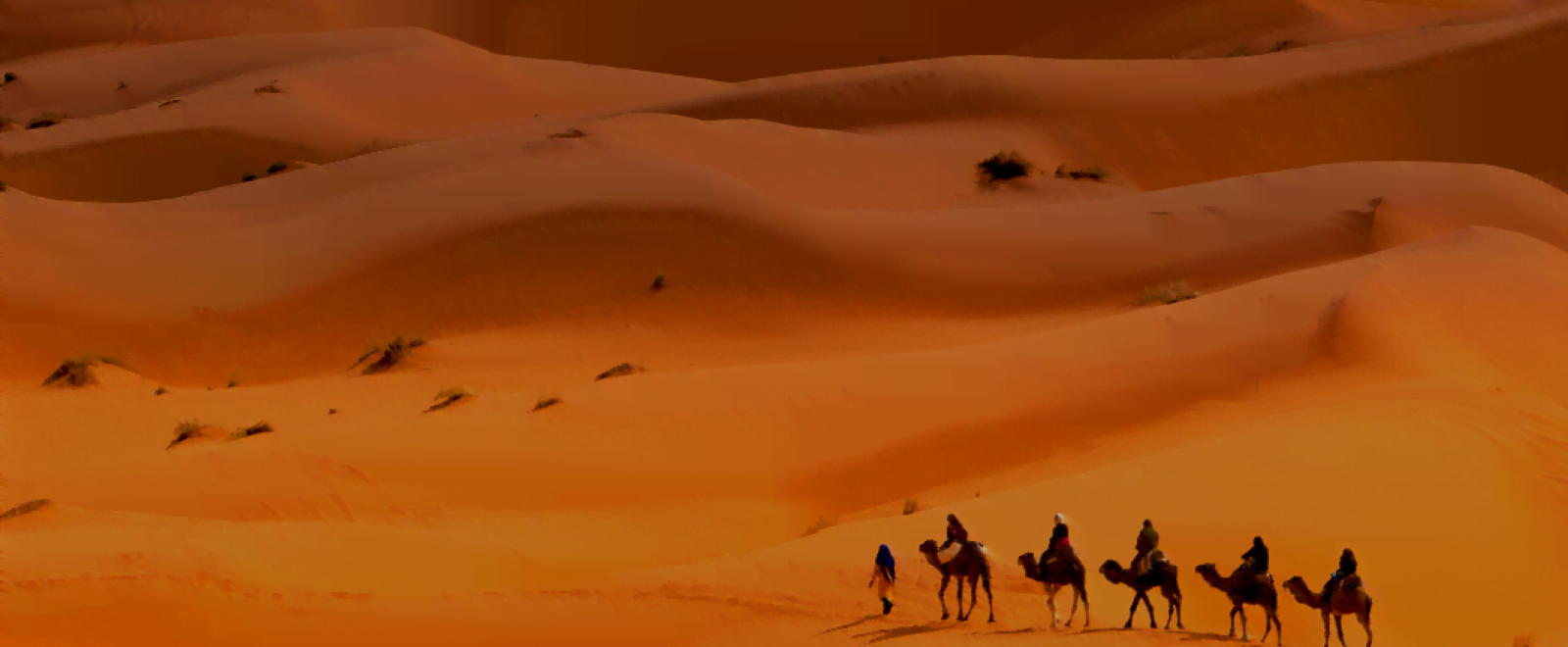 Fes Desert Tours 4 Days/3 Nights
Fes desert tours offer an incredible 4-day adventure that takes you through the captivating landscapes of the Sahara Desert from the historic city of Fes. Engross yourself in the beauty of the desert as an expedition through majestic dunes, rugged mountains, and picturesque oases. Experience the unique nomadic culture firsthand, interacting with local tribes and learning about their traditional way of life. Marvel at the stunning sunsets and be enchanted by the starry nights that blanket the desert. Fes desert tours 4 Days promises an unforgettable experience filled with exploration, cultural immersion, and the magic of the desert.
program itinerary for Fes Desert Tours 4 Days
Day 1:
Morning: Arrive in Fes and meet your tour guide.

Afternoon: Explore the historic medina of Fes, including the Bou Inania Medersa, Al-Attarine Madrasa, and the famous tanneries. Enjoy a traditional Moroccan lunch.

Evening: Visit a local restaurant for dinner and experience the lively atmosphere of Fes at night.
Day 2:
Morning: Depart from Fes and head towards the Sahara Desert. Drive through the Middle Atlas Mountains and stop at the scenic cedar forests of Azrou, known for their resident Barbary macaques.

Afternoon: Continue the Tour to Erfoud, passing through the Ziz Valley and its palm groves. Enjoy a panoramic view of the desert as you approach Merzouga.

Evening: Arrive at the desert camp in Merzouga. Enjoy a traditional Moroccan dinner, listen to Berber music around the campfire, and spend the night in a comfortable desert tent.
Day 3:
Morning: Wake up early to witness the mesmerizing sunrise over the dunes of Erg Chebbi. Enjoy a traditional breakfast at the camp.
Morning/Afternoon: Take a camel trek into the heart of the Sahara Desert, experiencing the tranquility and vastness of the dunes. Visit a nomadic Berber family and learn about their way of life.

Afternoon: Return to the camp and have lunch. Relax and enjoy the peaceful surroundings.

Evening: Experience a captivating desert sunset before another night of Berber hospitality, dinner, and stargazing.
Day 4:
Morning: Depart from the desert camp after Breakfast and head back towards Fes.

Afternoon: Stop at the Todra Gorge, known for its towering limestone cliffs and a popular spot for rock climbers. Enjoy a leisurely walk through the gorge.

Evening: Continue the trip to Fes, passing through scenic landscapes and small Berber villages.

Late Evening: Arrive back in Fes, where your tour concludes. You can explore the city's vibrant nightlife or relax and prepare for your onward trip.
inclusions and exclusions for Fes Desert Tours 4 Days
Inclusions for Fes Desert Tours (4 days):
Transportation: All transportation included pick-up and drop-off from your accommodation in Fes.

Accommodation: Overnight stay in a comfortable desert camp in Merzouga with traditional Berber tents equipped with beds, blankets, and basic amenities.

Meals: Breakfast and dinner are included throughout the tour. Traditional Moroccan cuisine will be provided.

English-Speaking Guide: A knowledgeable and experienced guide who will accompany you throughout the tour and provide information about the destinations, culture, and history.

Activities: Camel trekking into the Sahara Desert, visiting nomadic Berber families, experiencing a sunrise and sunset over the dunes, and stargazing in the desert.
Sightseeing: Guided tours of Fes, including the medina, historical landmarks, and attractions.

Entrance Fees: Entrance fees to specified attractions and landmarks mentioned in the itinerary.
Exclusions for Fes Desert Tours (4 days):
Flights: International or domestic flights to and from Fes are not included.

Travel Insurance: It is Preferred to have your travel insurance cover any unforeseen circumstances, medical emergencies, or trip cancellations.

Personal Expenses: Any personal expenses such as souvenirs, additional snacks or drinks, laundry, or other incidental expenses are not included.

Gratuities: Tips for the tour guide, driver, or camp staff are not included but are appreciated as a gesture of gratitude for excellent service.

Optional Activities: Any optional activities or experiences not Specifically Mentioned in the itinerary are not included and would be at an additional cost.