Book Your Tour Packages Now!
15 Days tour from Casablanca
15 Days from Casablanca - Casablanca desert Tours, Casablanca to Chefchaouen tour, tour Casablanca, tour from Casablanca, gate 1 travel morocco reviews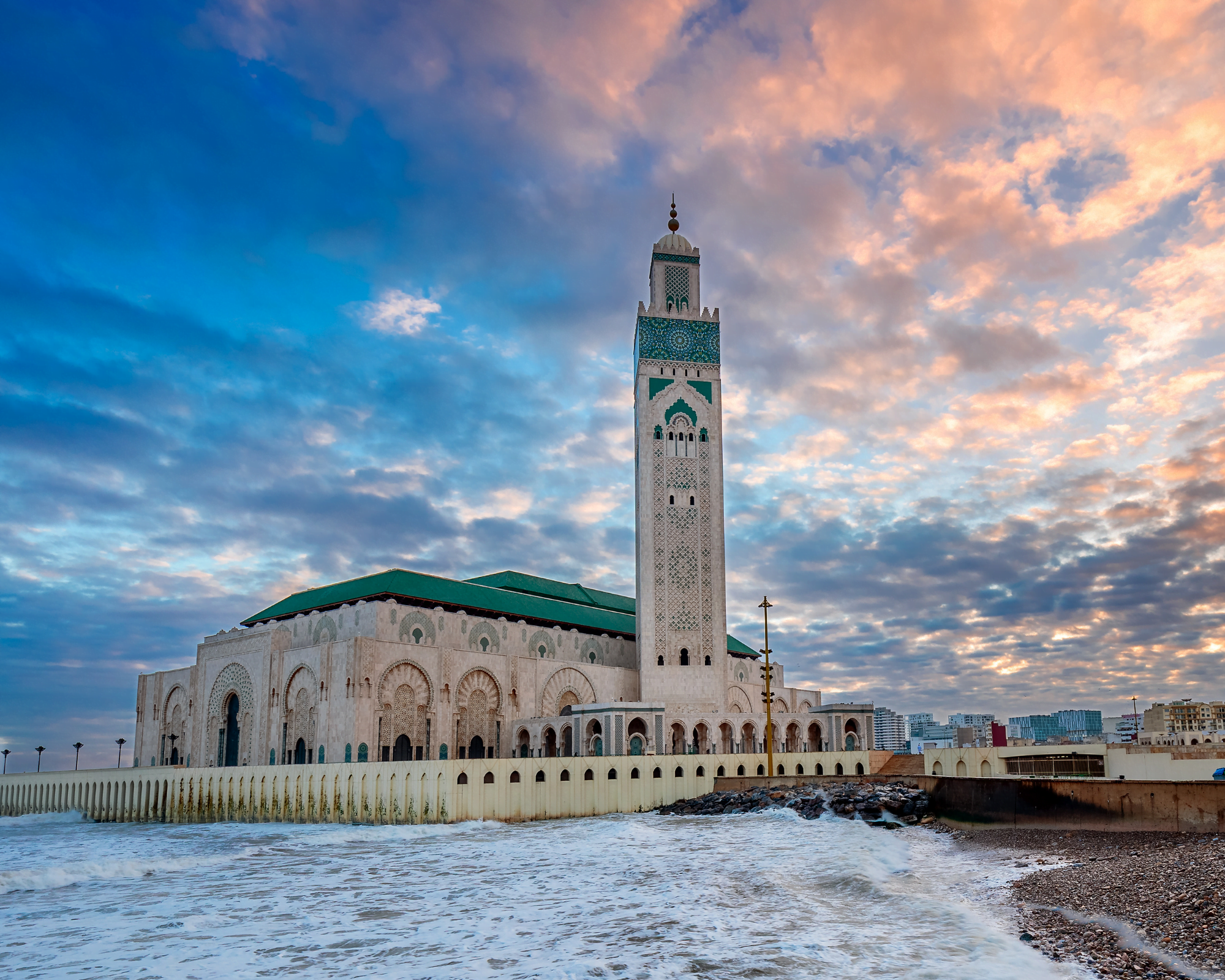 15 Days tour from Casablanca/14 Nights
Set out on a captivating 15 Days Tour from Casablanca. In these 15 Days/14 Nights, You will embark on a journey where time-honored customs merge with contemporary fascination, weaving a rich array of encounters that Will etch an enduring impression upon your spirit. As you venture forth, the enchanting landscapes of Morocco unfurl before your eyes, from the bustling labyrinthine streets of Marrakech, where vibrant markets overflow with exotic treasures, to the tranquil oases of the Sahara Desert, where the golden sands stretch beyond imagination. Immerse yourself in the timeless allure of Fes, where medieval medinas beckon with their maze-like charm, and delve into the rich history of imperial cities such as Rabat and Meknes, Revealing the narratives of dynasties and cultures that have molded the area. Traverse the breathtaking Atlas Mountains, a realm of rugged beauty, and be welcomed into Berber villages with warm hospitality and a glimpse into a way of life preserved through generations. From savoring the tantalizing flavors of Moroccan cuisine to marveling at the intricate architecture of ancient palaces and mosques, this 15 Days from Casablanca promises a profound and unforgettable exploration of a land where every step reveals a new chapter in an age-old tale.
program itinerary for 15 Days tour from Casablanca
Day 1: Arrival in Casablanca
Arrive in Casablanca, the economic hub of Morocco.

Explore the Hassan II Mosque, a masterpiece of modern Islamic architecture.

Overnight in Casablanca.
Day 2: Casablanca – Rabat
Travel to Rabat, the capital city.

Visit the Royal Palace, Hassan Tower, and the ancient Kasbah of the Udayas.

Overnight in Rabat.
Day 3: Rabat – Chefchaouen
Drive to Chefchaouen, the "Blue Pearl" of Morocco.

Wander through the charming blue-painted streets and enjoy the tranquil atmosphere.

Overnight in Chefchaouen.
Day 4: Chefchaouen – Fes
Travel to Fes, one of Morocco's oldest imperial cities.

Explore the bustling medina and its labyrinthine streets.

Overnight in Fes.
Day 5: Fes
Full day to further explore Fes.

Visit the Bou Inania Medersa, Al Quaraouiyine University, and the tanneries.

Overnight in Fes.
Day 6: Fes – Merzouga
Drive through the Middle Atlas Mountains to Merzouga.

Experience a camel trek into the Sahara Desert and witness the stunning sunset.

Overnight in a desert camp.
Day 7: Merzouga – Todra Gorges
Depart for the Todra Gorges, known for their towering canyon walls.

Enjoy hiking and exploring the natural beauty of the area.

Overnight near Todra Gorges.
Day 8: Todra Gorges – Ouarzazate
Drive to Ouarzazate, known as the "Hollywood of Africa."

Visit the Atlas Film Studios and the Ait Ben Haddou Kasbah, a UNESCO site.

Overnight in Ouarzazate.
Day 9: Ouarzazate – Marrakech
Travel to Marrakech, the vibrant and cultural heart of Morocco.

Explore the Djemaa el-Fna Square, Bahia Palace, and the Saadian Tombs.

Overnight in Marrakech.
Day 10: Marrakech
Full day to explore Marrakech further.

Visit the Koutoubia Mosque, Majorelle Garden, and the Marrakech Museum.

Overnight in Marrakech.
Day 11: Marrakech – Atlas Mountains
Drive into the Atlas Mountains.

Visit traditional Berber villages and enjoy the stunning mountain scenery.

Overnight in the Atlas Mountains.
Day 12: Atlas Mountains – Essaouira
Travel to Essaouira, a coastal gem.

Explore the charming medina, visit the port, and relax on the beach.

Overnight in Essaouira.
Day 13: Essaouira – Agadir
Drive to Agadir, a modern beach resort city.

Relax on the sandy shores and enjoy the coastal ambiance.

Overnight in Agadir.
Day 14: Agadir – Casablanca
Return to Casablanca.

Free time for last-minute shopping or exploration.

Overnight in Casablanca.
Day 15: Departure
Depending on your flight schedule, You could have some leisure time for concluding exploration or unwinding.

Embark on your departure from Casablanca, marking the end of your unforgettable 15-day Moroccan odyssey.
inclusions and exclusions for 15 Days tour from Casablanca
 Inclusions for 15 Days tour from Casablanca:
Accommodation:

 Comfortable and well-located hotels or accommodations throughout the trip.

Transportation:

 Comprehensive transportation package encompassing airport transfers, interurban journeys, and guided tours Conducted in comfortable vehicles.

Professional Guides:

 Knowledgeable local guides provide insights and information about each destination.

Sightseeing:

 Comprehensive sightseeing Tours of major attractions, historical sites, and cultural landmarks.

Meals:

 Daily breakfast and select meals as specified in the itinerary, allowing you to savor the local cuisine.

Activities:

 Admissions to museums, historical sites, and cultural experiences are part of the itinerary.

Camel Trek:

 An unforgettable 

camel trek experience into the Sahara Desert

 with an overnight stay in a desert camp.

Local Experiences:

 Authentic cultural experiences like visiting Berber villages, local markets, and artisan workshops.

Support:

 24/7 local support and assistance throughout the trip.
Exclusions for 15 Days tour from Casablanca:
International Flights:

 Airfare to and from Casablanca is not part of the package.

Visa Fees:

 Costs associated with obtaining visas or entry permits, if applicable.

Travel Insurance:

 Extensive travel insurance covering unforeseen incidents, medical costs, and trip interruptions.

Meals:

 Lunches and dinners not outlined in the itinerary are covered.

Personal Expenses:

 Expenses like souvenirs, shopping, tips, and any additional activities not included in the itinerary.

Optional Activities:

 Added elective events or journeys not outlined in the provided agenda.

Alcoholic Beverages:

 Alcoholic drinks and beverages are typically not included in the tour cost.

Gratuities:

 Tips for guides, drivers, and hotel staff are usually not included and should be budgeted separately
Vital Note: Kindly be aware that the provided tour itinerary is merely a suggested plan. If it does not align with your specific preferences, please do not hesitate to Contact us. We are fully prepared to curate an alternative itinerary that caters to your individual preferences and the duration of your stay. Our expertise lies in creating personalized and tailor-made trips and excursions throughout the enchanting landscape of Morocco.
Pricing is subject to fluctuation by the number of participants. The greater the number of individuals partaking in the trip, the lower the cost per person. As the cost of Transportation remains fixed, The total cost will be divided among all Members of the Group, ensuring a fair distribution that aligns with the chosen itinerary. Furthermore, our pricing model is Thoughtfully Designed to reflect the quality and level of accommodations you opt for.
What People Say About Our 15 Days Tour from Casablanca
Unforgettable Adventure! Youssef made our 15-day tour an unforgettable adventure! His deep knowledge of Moroccan history, culture, and landscapes added a fascinating layer to every destination we visited. His friendly demeanor and expert guidance ensured that we experienced the true essence of Morocco, from bustling medinas to serene desert landscapes. Youssef's attention to detail and personalized approach truly made this trip exceptional. Highly recommended
"Una Joya Cultural" La experiencia de Youssef brilló a lo largo de nuestro recorrido de 15 días, convirtiéndolo en una joya cultural. Sus conocimientos sobre las tradiciones antiguas y su habilidad para fusionarlas perfectamente con perspectivas modernas añadieron profundidad a cada lugar que exploramos. Su calidez y paciencia crearon un entorno cómodo para preguntas y aprendizaje. Desde las calles laberínticas de Fez hasta las impresionantes dunas de Merzouga, la guía de Youssef transformó este viaje en una experiencia enriquecedora.
"楷模导游" 在为期15天的旅行中,Youssef作为我们的导游,表现得无可挑剔。他对摩洛哥历史、艺术和建筑的丰富知识为我们所遇到的每个城市和景点注入了生机。他将过去的故事与现在的活力巧妙交织,展现出他对分享文化的热情。Youssef的专业素养和友好态度使这段旅程不仅富有教育意义,还令人愉悦无比。
Journey of a Lifetime Youssef was the heart and soul of our 15-day journey through Morocco. His dedication to ensuring our experience was nothing less than remarkable was evident in every aspect of the tour. His storytelling transported us back in time as we explored ancient medinas, and his insights into local customs fostered a genuine connection with the places we visited. Youssef's warmth and expertise turned this into a Journey of a lifetime, leaving us with cherished memories.