Book your tour packages now!
Moroccan Odyssey: A 7 Days tour from Casablanca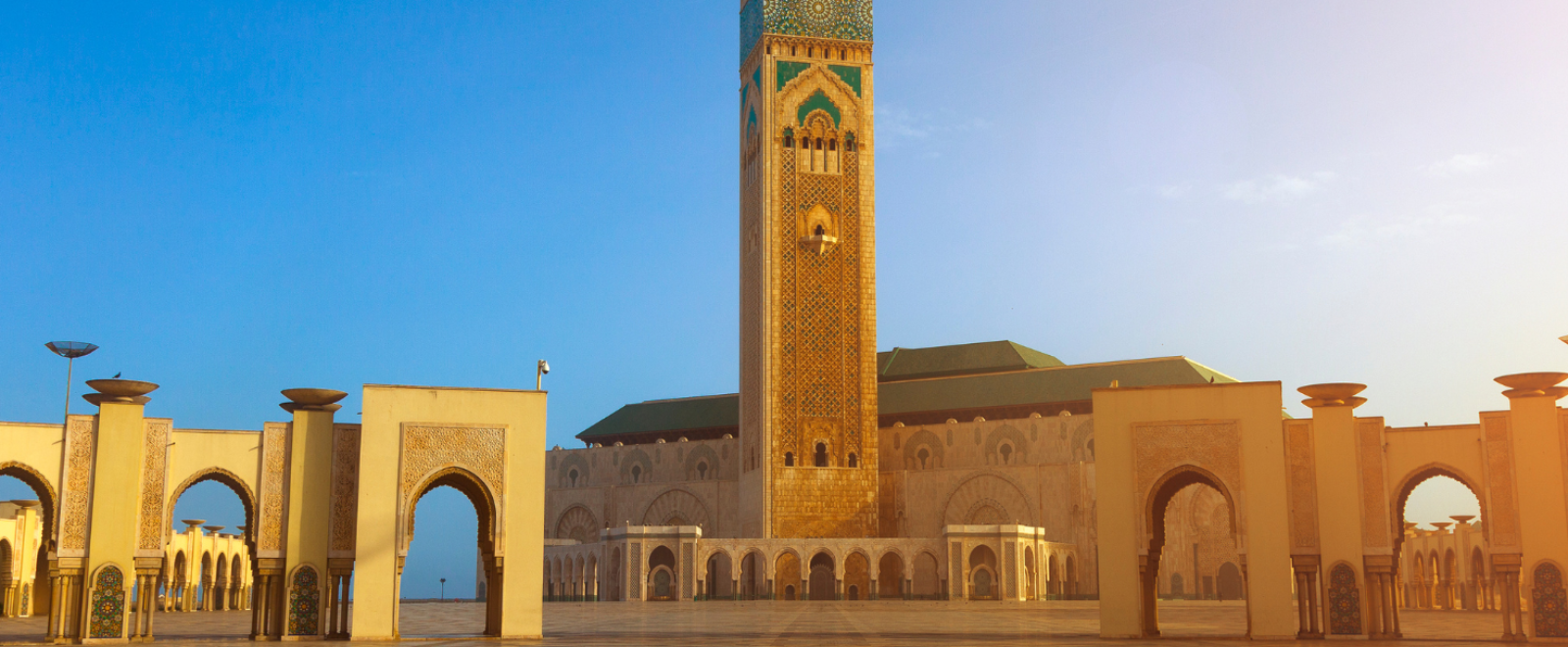 seven Days tour from Casablanca/ 7 days desert tour from Casablanca
Set out an unforgettable 7 Days Tour from Casablanca. In These 7 Days /6 Nights, You will delve into the captivating tapestry of Morocco's culture, history, and landscapes.
Starting with the vibrant streets of Casablanca, you'll traverse ancient medinas, explore historic landmarks, and savor local cuisine.
From the cerulean pathways of Chefchaouen to the Vibrant markets of Marrakech, Daily unfolds new wonders.
Be enchanted by the Sahara Desert's sweeping dunes, where you'll witness breathtaking sunrises and immerse yourself in the magic of traditional desert camps.
Our Morocco tours from Casablanca promise an authentic and enriching experience, offering a seamless blend of exploration, adventure, and Cultural Experience.
7 Days Morocco Tour Itinerary
Day 1: Casablanca
Arrive in Casablanca and transfer to your hotel.

Visit the famous Hassan II Mosque and savor a scenic walk along the Corniche.

Explore the bustling ancient medina and relish the flavors of local cuisine.
Day 2: Rabat
Travel to Rabat (about 1.5 hours by train).

Visit 

the Hassan Tower

,

 Mausoleum of Mohammed V, and 

Oudaias Kasbah

.

Stroll through the serene Andalusian Gardens.
Day 3: Chefchaouen
Travel to Chefchaouen

 (about 4-5 hours by bus or taxi).

Wander through the charming blue-washed streets.

Take in the stunning mountain views and enjoy the tranquil atmosphere.
Day 4: Fes
Travel to Fes (about 4 hours by train).

Explore

 the UNESCO-listed Fes el-Bali Medina

, including

 Al-Quaraouiyine University and tanneries

.

Plunge yourself in the rich cultural heritage.
Day 5: Merzouga Desert
Depart for Merzouga (about 8-9 hours by car).

Cross 

the Middle Atlas Mountains

 and enjoy the changing landscapes.

Arrive in the

Merzouga

Desert

 and experience a magical

 

camel trek

 to your desert camp.

Spend the night under the starry desert sky.
Day 6: Merzouga to Ouarzazate
Enjoy the spectacle of the sunrise over the dunes and then return to Merzouga.

Depart for Ouarzazate (about 4-5 hours by car).

Visit 

the UNESCO-listed Ksar Ait Ben Haddou and explore the Atlas Film Studios

.
Day 7: Marrakech
Travel to Marrakech (about 4-5 hours by car).

Visit 

the vibrant Jemaa el-Fnaa Square, Bahia Palace, and Saadian Tombs

.

Explore the souks and enjoy a farewell dinner in a traditional riad.
inclusions and exclusions for 7 Days tour from Casablanca: 7 Days Morocco Tour from Casablanca
Inclusions for 7 Days Tour from Casablanca:
Accommodations

: Pre-arranged hotels or riads that offer comfort and local charm.

Transportation

: Private or guided transportation throughout the tour, including transfers.

Guided Tours

: Professional local guides for city tours, historical sites, and cultural experiences.

Meals

: Daily breakfast and select meals, focusing on authentic Moroccan cuisine.

Entrance Fees

: Admission fees to museums, historical sites, and attractions mentioned in the itinerary.

Desert Experience

:

Camel

trekking

 and overnight stay in a

 

desert camp with

 cultural activities.

Sightseeing

: Explorations of renowned sites like 

the Hassan II Mosque

, 

Fes el-Bali Medina

, and 

Ait Ben Haddou

.

Local Experiences

: Participation in traditional activities like Moroccan tea ceremonies or cooking classes.

English-Speaking Guide

: Experienced guides offering in-depth knowledge about local history and culture.

Support

: Assistance from a local tour operator or travel agency throughout the Trip.
Exclusions for 7 Days Tour from Casablanca:
International Flights

: Airfare to and from

 Casablanca 

is typically not included.

Travel Insurance

: Comprehensive travel insurance to cover medical emergencies, Tour cancellations, etc.

Visa Fees

: Entry visa fees, if applicable, for your nationality.

Additional Meals

: Meals outside the designated schedule, enabling you to experience local dining independently.

Optional Activities

: Costs for optional activities like hot air balloon rides, quad biking, or spa treatments.

Gratuities

: Tips for guides, drivers, and service staff are usually not included.

Personal Expenses

: Any souvenirs, shopping, and personal items expenses.

Alcoholic Beverages

: Alcoholic drinks are often not included in meal packages.

Extra Nights

: Accommodation and activities for any additional days not included in the itinerary.

Airport Transfers

: Transfers outside the designated trip dates to and from the airport.
Vital Note: So that you know, the tour itinerary provided is only a suggested plan. If it does not align with your specific preferences, please don't hesitate to contact us. We are fully prepared to create an alternative itinerary that works for you and the duration of your stay.
Our expertise lies in creating personalized and tailor-made trips and excursions throughout the enchanting landscape of Morocco.
Pricing is subject to fluctuation based on the number of participants. The greater the number of individuals participating in the trip, the lower the cost per person.
As transportation costs remain fixed, the total cost will be divided among all group members, ensuring a fair distribution aligned with the chosen itinerary. Furthermore, our pricing model is thoughtfully designed to reflect the quality and level of accommodations you opt for.
FAQ of the seven days tour from Casablanca
What is the itinerary for the 7-day tour from Casablanca?
The itinerary includes visits to iconic cities such as Marrakech, Fes, and Rabat, with stops at key cultural and historical sites.
Which cities or destinations will be covered during the 7-day tour?
The trip will cover Casablanca, Marrakech, Fes, Rabat, and other notable destinations, providing a comprehensive experience of Morocco's diversity.
What types of accommodations are included in the tour package?
Accommodations will include comfortable hotels with amenities, offering a mix of modern comforts and local hospitality.
Are meals included in the tour package, and if so, what is the dining arrangement?
Daily breakfast, select lunches, and dinners featuring traditional Moroccan cuisine are included. Dietary preferences can be accommodated with prior notice.
What modes of transportation will be used between destinations?
Comfortable, air-conditioned vehicles will be provided for transportation between destinations, ensuring a safe and enjoyable journey.
Are there any optional excursions or activities available during the tour?
Yes, optional excursions such as guided tours, cultural experiences, and adventure activities may be available. The tour operator will provide details.
What is the best time of the year to take this 7-day tour from Casablanca?
The tour is designed to be enjoyable year-round, but the optimal time is during the spring and fall when the weather is moderate.
What is the level of physical activity involved in the tour? Is it suitable for all fitness levels?
The tour involves moderate physical activity, with walking tours and exploration of historical sites. It is generally suitable for all fitness levels.
What is the policy regarding travel insurance for the 7-day tour?
Travel insurance is highly recommended, and participants are encouraged to obtain coverage that includes trip cancellation, medical expenses, and other potential unforeseen events.
Can you provide information about the cultural experiences and interactions with locals during the tour?
The tour includes immersive cultural experiences, such as visits to local markets, guided tours by knowledgeable locals, and opportunities to interact with communities.
Let us answer your questions.
Getting in touch with us is easy. We are dedicated to providing excellent customer service and are always ready to assist you with any inquiries or bookings.
To reach us,  call us at our contact number or email us with your questions or requirements. Our knowledgeable team of travel experts can provide personalized assistance and help you plan your perfect trip.
We value your time and would like to respond quickly to your questions. If you have a question about our tour packages, would like help booking accommodations, or would like to customize your itinerary, we are here to help.
Feel free to contact us and let us make your travel dreams a reality.
Please be sure to know before you go.
Embarking on a journey from Casablanca offers various experiences across varying durations.
For the comprehensive explorer, the 5-Day Tour from Casablanca provides a curated adventure, allowing you to delve into the cultural richness and scenic wonders.
We would like you to extend your exploration with our 7-Day Tour from Casablanca, offering an immersive experience encompassing Morocco's diverse landscapes and historical treasures.
Those seeking an extended odyssey can opt for the 10-day Tour from Casablanca, unraveling the layers of Morocco's history, culture, and natural beauty.
The 13-Day Tour from Casablanca invites you on an extensive discovery, allowing ample time for in-depth exploration and authentic encounters.
Finally, our grand 15-day Tour from Casablanca offers an epic journey, providing a comprehensive tapestry of Morocco's enchanting allure, from bustling medinas to serene desert landscapes.
Whichever duration you choose, each trip promises a unique and unforgettable adventure through the heart of Morocco.