Book your tour packages now!
Discover Morocco's Rich Heritage: 5 days tour from Casablanca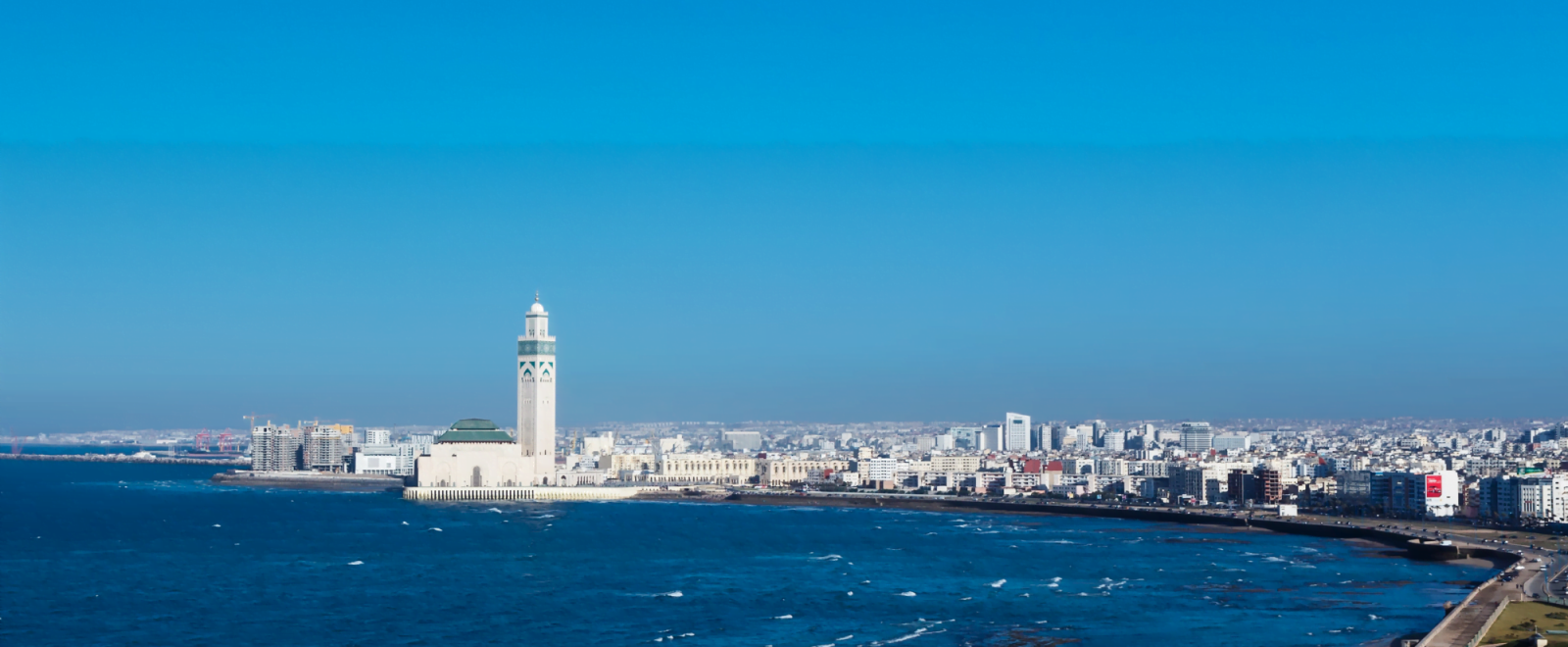 Five days tours from Casablanca/Morocco Tours From Casablanca
Set out on a captivating 5 Days Tour from Casablanca. In These 5 Days /4 Nights, You will see Morocco's vibrant coastal city and explore the country's rich tapestry.
Engage yourself in the labyrinthine streets of Marrakech, where the bustling medina offers an array of colors, scents, and flavors.
Venture into the Sahara Desert, where golden dunes stretch as far as the eye can see, and experience an enchanting night under the stars in a desert camp.
Discover the historic wonders of Fes, with its ancient medina and intricate architecture. Traverse the stunning Atlas Mountains, where picturesque villages dot the landscape.
This Casablanca to Sahara desert trip in 5 days promises a whirlwind of diverse experiences, unveiling Morocco's cultural gems and breathtaking landscapes.
5 Days Morocco Tour Itinerary
Day 1: Casablanca Arrival and Marrakech Introduction
Arrive in Casablanca and meet your guide.

Explore the

 awe-inspiring Hassan II Mosque

, an architectural masterpiece.

Depart for 

Marrakech, the vibrant "Red City."

Stroll through

 the historic Koutoubia Mosque and lively Jemaa el-Fnaa square

.

Dive into the bustling souks and

 relish a traditional Moroccan dinner

.

Overnight stay in Marrakech.
Day 2: Marrakech Exploration and Cultural Immersion
Discover the intricate Saadian Tombs and marvel at the opulent

 Bahia Palace

.

Visit the captivating 

Majorelle Garden

, a haven of vibrant hues.

Engage yourself in the medina's labyrinthine streets, art, and craftsmanship.

Optional: 

Enjoy a camel ride or quad biking in the Palmeraie

.

Relish an authentic Moroccan dinner accompanied by live entertainment.

Overnight stay in Marrakech.
Day 3: Atlas Mountains, Ait Ben Haddou, and Ouarzazate
Depart for the stunning Atlas Mountains, passing breathtaking vistas.

Engage with a traditional Berber community and gain insights into their culture.

Explore 

the UNESCO-listed Ait Ben Haddou

, an ancient fortified village.

Continue to Ouarzazate and visit the 

Taourirt Kasbah and Atlas Film Studios

.

Overnight stay in Ouarzazate.
Day 4: Todgha Gorges, Merzouga Desert Adventure, and Night in Camp
Traverse the captivating Dadès Valley, admiring its Captivating rock formations.

Encounter the magnificent Todgha Gorges and embark on a leisurely walk.

Proceed to

 Erfoud and arrive in Merzouga, the gateway to 

the Sahara Desert

.

Experience a captivating camel trek into the dunes, witness a Stunning sunset, and enjoy a night under the stars at a desert camp.

Savor traditional music, stargazing, and warm Berber hospitality.
Day 5: Fes Discovery and Departure
Watch the desert sunrise before returning to Merzouga.

Depart for Fes, the cultural hub of Morocco.

Submerge yourself in

 the UNESCO-listed Fes Medina

, including

 Al Quaraouiyine University

,

 Bou Inania Madrasa

, and 

the aromatic tanneries

.

Wander through lively souks and soak in the vibrant city atmosphere.

Conclude your trip with a farewell dinner before departing from Fes.
inclusions and exclusions for 5 Days tour from Casablanca: Casablanca To Sahara Desert
Inclusions for The 5 Days tour from Casablanca:
Accommodation:

 Comfortable and well-located accommodations for four nights.

Transportation:

 Private or shared transportation As per the itinerary, including airport transfers and inter-city travel.

Guided Tours: 

Immerse yourself in captivating journeys through iconic landmarks, expertly curated and narrated by insightful local guides.

Meals:

 Daily breakfast at the accommodation and several other meals as specified in the itinerary.

Activities: 

Embark on immersive cultural journeys, explore historical landmarks with knowledgeable guides, and partake in enriching workshops.

Entrance Fees:

 All entrance fees to attractions are Part of the itinerary.

Local Guides:

 Local guides for specific attractions or destinations.

Support:

 24/7 support and assistance from the tour operator.
Exclusions for The 5 Days tour from Casablanca:
Flights:

 International and domestic flights to and from Casablanca.

Travel Insurance:

 Comprehensive travel insurance covering medical emergencies, trip cancellations, and other unforeseen events.

Visa Fees:

 Fees for obtaining a visa if required for your nationality.

Personal Expenses:

 Individually incurred costs, encompassing souvenirs, extra meals, beverages, laundry, and Personal shopping.

Optional Activities: 

Additional activities beyond the outlined itinerary.

Tips and Gratuities:

 Tips for guides, drivers, and hotel staff.

Extra Transportation:

 Any travel outside of the planned itinerary.

Meals Not Mentioned:

 Meals not explicitly mentioned as included in the itinerary.

Alcoholic Beverages:

 Alcoholic drinks and beverages.

Phone Calls:

 Personal phone calls, internet usage, and communication expenses.

Medications and Medical Expenses:

 Any personal Medications and medical expenses.

Porterage:

 Porter fees at hotels, airports, and train stations.

Airport Taxes:

 Any departure taxes or airport fees.

Unique Entertainment:

 The schedule does not specify costs for individual leisure activities, like shows or performances.

Any Other Items Not Mentioned:

 Any other expenses not explicitly mentioned as included.
Vital Note: So that you know, the tour itinerary provided is only a suggested plan. If it does not align with your specific preferences, please don't hesitate to contact us. We are fully prepared to create an alternative itinerary that works for you and the duration of your stay.
Our expertise lies in creating personalized and tailor-made trips and excursions throughout the enchanting landscape of Morocco.
Pricing is subject to fluctuation based on the number of participants. The greater the number of individuals participating in the trip, the lower the cost per person.
As transportation costs remain fixed, the total cost will be divided among all group members, ensuring a fair distribution aligned with the chosen itinerary. Furthermore, our pricing model is thoughtfully designed to reflect the quality and level of accommodations you opt for.
Frequently Asked Questions for 5-Day tour from Casablanca / gate 1 Travel Morocco reviews.
How many days in Casablanca is enough?
The ideal duration for a visit to Casablanca depends on your interests. For an essential exploration, 1 to 2 days may be sufficient. If you want a more in-depth experience or have specific interests, consider extending your stay to 3 days.
Can you see Morocco in 5 days?
While five days is relatively short, it is possible to glimpse Morocco's highlights. Focus on specific cities or regions like Casablanca, Marrakech, and Fes. Plan efficiently to make the most of your time.
How do you plan five days in Morocco?
Prioritize key destinations, create a flexible itinerary, and consider factors like travel time between cities. Include must-see attractions, cultural experiences, and local cuisine in your plan. Research transportation options to optimize your time.
Is it better to go to Marrakech or Casablanca?
The choice between 

Marrakech and Casablanca 

depends on your preferences. Marrakech is known for its historic charm, vibrant markets, and cultural richness. Casablanca is a modern city with a business focus and the famous 

Hassan II Mosque

. Consider your interests when deciding which city to visit.
What are the must-visit attractions in Casablanca for a 5-day trip?
Key attractions in Casablanca include the Hassan II Mosque, the Corniche, the Old Medina, and the Royal Palace. Plan your itinerary to have these landmarks while leaving room for local experiences and exploration.
What is the best time to visit Morocco for a 5-day trip?
The spring (March to May) and fall (September to November) months are generally pleasant for travel in Morocco. Consider the weather and local events when planning your 5-day itinerary.
Are there guided tours available for a 5-day trip in Morocco?
Many travel agencies offer guided tours tailored to different durations, including 5-day itineraries. These trips can provide a structured and efficient way to explore the country.
What cultural experiences should I include in a 5-day trip to Morocco?
Explore local markets, try traditional Moroccan cuisine, and engage with the rich cultural heritage. Consider attending local performances, visiting historical sites, and interacting with locals for an immersive experience.
Let us answer your questions.
Getting in touch with us is easy. We are dedicated to providing excellent customer service and are always ready to assist you with any inquiries or bookings.
To reach us,  call us at our contact number or email us with your questions or requirements. Our knowledgeable team of travel experts can provide personalized assistance and help you plan your perfect trip.
We value your time and would like to respond quickly to your questions. If you have a question about our tour packages, would like help booking accommodations, or would like to customize your itinerary, we are here to help.
Feel free to contact us and let us make your travel dreams a reality.
Please be sure to know before you go.
Embarking on a journey from Casablanca offers various experiences across varying durations.
For the comprehensive explorer, the 5-Day Tour from Casablanca provides a curated adventure, allowing you to delve into the cultural richness and scenic wonders.
We would like you to extend your exploration with our 7-Day Tour from Casablanca, offering an immersive experience encompassing Morocco's diverse landscapes and historical treasures.
Those seeking an extended odyssey can opt for the 10-day Tour from Casablanca, unraveling the layers of Morocco's history, culture, and natural beauty.
The 13-Day Tour from Casablanca invites you on an extensive discovery, allowing ample time for in-depth exploration and authentic encounters.
Finally, our grand 15-day Tour from Casablanca offers an epic journey, providing a comprehensive tapestry of Morocco's enchanting allure, from bustling medinas to serene desert landscapes.
Whichever duration you choose, each trip promises a unique and unforgettable adventure through the heart of Morocco.