Book Your Tour Packages Now!
Merzouga desert experience
Merzouga luxury desert camp - activities in Merzouga, morocco desert Merzouga, Merzouga desert Tours, Merzouga activities, Merzouga desert in morocco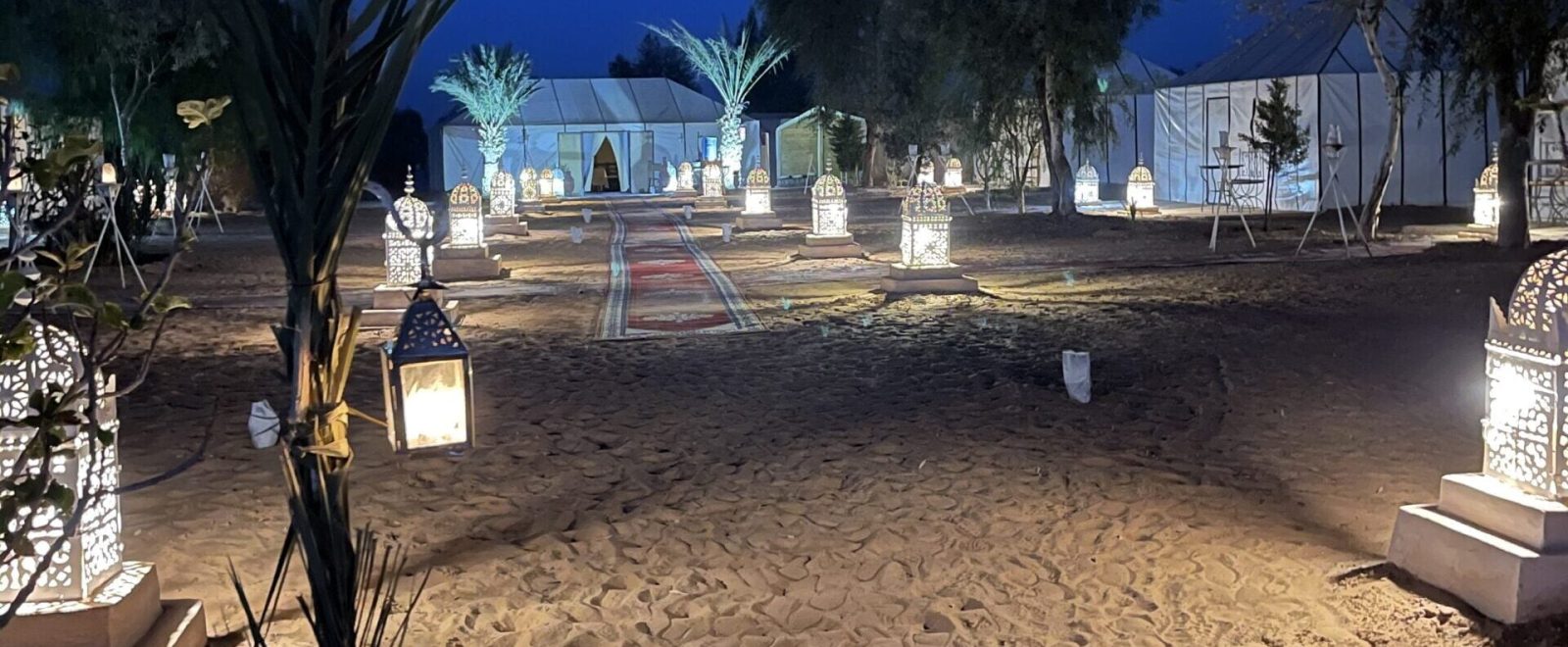 Merzouga luxury desert camp 3 Days/2 Nights
Merzouga Luxury Desert Camp is a haven of opulence amidst the mesmerizing dunes of the Sahara Desert in Morocco. This exclusive retreat offers an extraordinary blend of comfort, adventure, and breathtaking natural beauty. Featuring sumptuous lodgings that showcase traditional Berber-influenced architecture and contemporary Comforts, guests can indulge in a truly luxurious experience. From private tented suites adorned with exquisite furnishings to gourmet dining under the starlit sky, every detail is Exquisitely fashioned to ensure an unforgettable stay. Whether initiating on camel treks across the golden sands, enjoying rejuvenating spa treatments, or simply immersing in the serenity of the desert, Merzouga Luxury Desert Camp promises an unparalleled escape for discerning travelers seeking the epitome of desert luxury.
program itinerary for Merzouga luxury desert camp
Day 1:
Arrival at Merzouga Luxury Desert Camp with a warm welcome from the staff

Log in and settle into your luxurious tented suite

Enjoy a refreshing welcome drink and a delectable lunch at the camp's elegant dining area

Afternoon at leisure to relax and soak in the stunning desert surroundings

Experience a thrilling camel ride through the mesmerizing dunes of the Sahara Desert at sunset

Return to the camp for a traditional Moroccan dinner under the starlit sky

Evening entertainment with live music and cultural performances
Day 2:
Rise early to behold the awe-inspiring sunrise over the majestic dunes, a sight that will leave you spellbound.

Enjoy a delicious breakfast at the camp, featuring a selection of local and international Dishes.

Engage in optional activities such as sandboarding or quad biking for a high-octane adventure.
Explore an enriching excursion to a nearby nomadic village, immersing yourself in the captivating tapestry of Berber culture and gaining a deep understanding of their vibrant way of life.

Retreat to the camp for a leisurely afternoon and luxuriate in a pampering spa experience or immerse yourself in the refreshing waters of the camp's pool for ultimate relaxation.

Evening culinary delight with a gourmet dinner showcasing traditional Moroccan flavors

A stargazing session with an expert guide to explore the wonders of the desert sky
Day 3:
Breakfast at the camp, savoring the last moments in this serene desert oasis

Check-out from Merzouga Luxury Desert Camp with cherished memories and souvenirs

Departure with optional transfers to your next destination
inclusions and exclusions for Merzouga luxury desert camp
Inclusions for Merzouga luxury desert camp (3 days):
Luxurious tented accommodation with modern amenities.

Welcome drinks upon arrival.

Daily meals, including breakfast, lunch, and dinner, featuring a variety of local and international cuisine.

Camel ride or desert trekking experience.

Evening entertainment with live music and cultural performances.

Optional activities such as sandboarding, quad biking, or dune bashing.

Guided excursion to a nearby nomadic village to learn about Berber culture.

A stargazing session with an expert guide.

Access to camp facilities, such as a swimming pool or spa (if available).
Exclusions for Merzouga luxury desert camp (3 days):
Transportation to and from the Camp.

Alcoholic beverages and additional beverages beyond the included welcome drinks.

 Personalized services for a heightened sense of relaxation and rejuvenation.

Personal expenses, souvenirs, and gratuities.

Travel insurance.

Any Additional activities or services not mentioned as inclusions.
Vital Note: Kindly be aware that the provided tour itinerary is merely a suggested plan. If it does not align with your specific preferences, please do not hesitate to Contact us. We are fully prepared to curate an alternative itinerary that caters to your individual preferences and the duration of your stay. Our expertise lies in creating personalized and tailor-made trips and excursions throughout the enchanting landscape of Morocco.
Pricing is subject to fluctuation by the number of participants. The greater the number of individuals partaking in the trip, the lower the cost per person. As the cost of Transportation remains fixed, The total cost will be divided among all Members of the Group, ensuring a fair distribution that aligns with the chosen itinerary. Furthermore, our pricing model is Thoughtfully Designed to reflect the quality and level of accommodations you opt for.
The Merzouga Luxury Desert Camp exceeded all our expectations! From the moment we arrived, we were blown away by the staff's warm hospitality. The luxury tents were incredibly comfortable and beautifully decorated, providing an authentic desert experience with a touch of luxury. The camel ride at sunset was a highlight, and the views were simply breathtaking. The campfire and traditional Moroccan dinner under the stars were unforgettable. We highly recommend this camp to anyone looking for a magical desert adventure!
Our stay at the Merzouga Luxury Desert Camp was a dream come true! The attention to detail in every aspect of the camp was remarkable. The tents were spacious, clean, and well-equipped with modern amenities. The camp's location amidst the dunes was mesmerizing, and the sunrise camel trek was a surreal experience. The staff's friendly and attentive service made us feel like royalty. The gourmet meals served in the desert were a culinary delight. We can't wait to return!
As a seasoned traveler, I can confidently say that the Merzouga Luxury Desert Camp stands out as a true gem in the Sahara. The blend of luxury and authentic Berber culture is seamless. The camp's management has done an excellent job of preserving the environment while providing top-notch amenities. The stargazing experience was out of this world, and the live Berber music around the campfire added to the magical ambiance. This is the place to unwind, disconnect, and immerse yourself in the beauty of the desert.
I booked the Merzouga Luxury Desert Camp as a surprise for my partner's birthday, and it turned out to be the best decision ever! The entire experience was nothing short of magical. The sunrise camel trek was romantic and unforgettable, and the private dinner set up for us under the stars was incredibly romantic. The camp's staff went out of their way to make our celebration Special. If you're looking for a unique and luxurious desert getaway, look no further. This camp is worth every penny.